Produkt beskrivelse
Speed: 5.0
Glide: 4.0
Turn: -1
Fade: 1.0
Tilleggsinformasjon
| | |
| --- | --- |
| Vekt | 0.180 kg |
| Dimensjoner | 21 × 21 × 2 cm |
Bare innloggede kunder som har kjøpt dette produktet kan legge igjen en omtale.
Relaterte produkter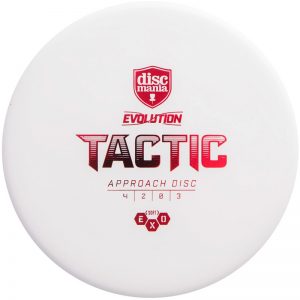 EXO SOFT TACTIC
Speed

: 4

 

Glide

: 2

Turn

: 0

 

Fade

: 3
The Soft Exo plastic helps the Tactic have more give to the flight plate allowing for players to really dig into their putters and get an incredible amount of grip on their disc. Being soft in rigidity and feel makes Soft Exo the plastic of choice for players looking to optimize comfort and grip.
Pro Tip: The Soft Exo plastic is historically the most overstable of the three plastics we offer between Soft, Hard, and Vapor.
not rated
kr

159.00
NEO EVOLUTION ORIGIN
Origin is fairly understandable at high speeds, making a perfect ally for long turnover shots and precise, laser straight lines when thrown with control. It will thrive in tailwinds, wooded fairways, and calmer conditions out on the course. You will be blown away at how far this disc will fly compared to it's flight numbers. If the fan favorite Essence had a mid-range relative, this is it.
not rated
kr

209.00
Strata Kotuku
Fantastisk midrange som passer til alt og alle.
Alle bør ha en litt overstabil midrange i baggen.
not rated
kr

135.00
K1 KAXE
Kastaplast Kaxe is a fast midrange driver or slow fairway driver? some would say it's both. a true multi-purpose disc that has become the favorite control driver for many players.
not rated
kr

189.00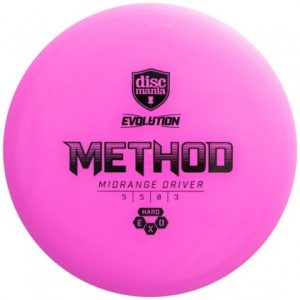 EXO HARD METHOD
The Method features a big bead which helps the disc feel natural in the hand and gives a consistently smooth release. The disc has a great grip as well in Neo plastic.
Discmania Pro Simon Lizotte supports the Method stating "It's the best midrange I've tried". Establish your system for approaching lower scores on the course and pick up a Method!
not rated
kr

159.00
Salg
Champion Mako3
Mako3 er den nyere, litt raskere versjonen av den rettflygende mellomdistansediscen, Mako.
Mako3 er den perfekte discen for alle som ønsker en rettflygende disc med liten til ingen fade. Som spiller vil du sette pris på de ekstra metrene du vil få som et resultat av den ekstra gliden denne discen har. Hvis du kun skal ha med en disc på banen så er Mako3 et godt valg.
not rated
kr

199.00