Distance Drivers
Z LINE THRASHER
kr 199.00
Thrasher kommer i vektklassen 160-175gr
Det er en høy hastighet driver, men med mye turn noe som gjør det enklere for lav hastighet kastere å få ekstra lengde.
Produkt beskrivelse
Durable Elite Z plastic with a modest pearl quality added
Speed: 12.0
Glide: 5.0
Turn: -3
Fade: 2.0
Bare innloggede kunder som har kjøpt dette produktet kan legge igjen en omtale.
Relaterte produkter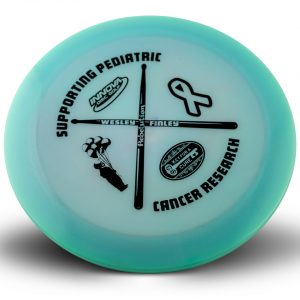 Champion Color Glow Corvette Wes Finley (Collab Edition)
Rebelution's Wesley Finley kicks off our new Celebrity Ambassador Collaboration Project with this Limited Edition Color Glow Champion Corvette. After close family friends lost their young son Matthew to cancer, Wesley chose to have a substantial portion of each disc sale donated to the Key For A Cure Foundation. Key For A Cure is a 501(c)(3) public charity based in Monterey, California, funding innovative pediatric cancer research. Cancer is the second leading cause of death in children (after accidents), but childhood cancer research is vastly underfunded. Less than 4% of the National Cancer Institute's budget is dedicated to childhood cancer research. The primary focus of Key For A Cure Foundation is to advocate and raise funds for pediatric cancer research initiatives that lead to less toxic forms of cancer treatment and a cure for cancer. Innova thanks you for helping Wesley and the Key For A Cure Foundation raise funds and awareness for this important cause.
not rated
kr

299.00