Fairway Drivers
Star Wraith Nathan Queen Tour Series
kr 249.00
Nathan Queen Wraith – One of the most popular distance drivers in Innova's lineup. The Wraith is a go-to for lefty Nathan Queen, the disc is well loved by many, the Wraith has a more universally comfortable grip than some of the wider rimmed 12, 13+ speed distance drivers. This is a mold that has made a comeback in recent years and it is a great flyer.  It has a ton of glide and the newer runs have a bit more stability than they have had in the past few years. Great for both forehands and backhands, these disc carve up both wooded courses and open distance control courses. The mold is super reliable and consistent and can be thrown by any skill level. The Nathan Queen Wraith comes in great feeling Star plastic and has a sick stamp that any rockstar would love. Grab one of these frisbees today and help Nathan on his 2021 tour!
Produkt beskrivelse
Speed

: 11

Glide

: 5

Turn

: -1

Fade

: 3
Bare innloggede kunder som har kjøpt dette produktet kan legge igjen en omtale.
Relaterte produkter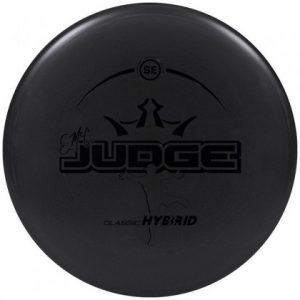 CLASSIC HYBRID EMAC JUDGE SE
If you love the flight of the Judge but wish it had less of a bead and a bit less fade, you're in good company with 2010 World Champion, Eric McCabe. In the quest for his go-to putter, Eric approached Jeremy Rusco and Latitude 64 about creating a putter that sits in between the Judge and the Warden, and the EMAC Judge is the result. The EMAC Judge features an incredible feel in your hand with a microbead that ensures a smooth release. Disc golfers using the EMAC Judge for approach shots will love the neutral stability with a subtle finish, and those putting with it will find a consistent flight with less diving fade than the original Judge. Eric is known for his world-class putting, so if you're looking for a putter that will take your game to the next level, look no further than the EMAC Judge!
not rated
kr

219.00