Fairway Drivers
STAR TL3
kr 199.00
The TL3 takes «easy to control» to a new level. The TL3 is a perfect disc for players looking to move from understable plastic to control discs. Excellent glide gives it distance, and a friendly flight smooths out bad form.
OBS de lyserosa er veldig swirl og varierende i fargen.
Produkt beskrivelse
Flight Rating:
Speed 8
Glide 4
Turn -1
Fade 1
Tilleggsinformasjon
| | |
| --- | --- |
| Vekt | 0.2 kg |
| Dimensjoner | 22 × 22 × 3 cm |
Bare innloggede kunder som har kjøpt dette produktet kan legge igjen en omtale.
Relaterte produkter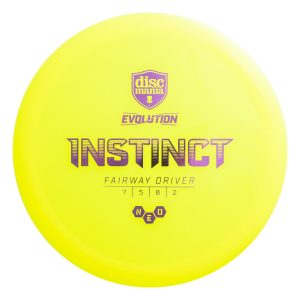 NEO INSTINCT
The Instinct is the first fairway driver and the very first disc released in Discmania's Evolution line. It offers the perfect blend of control and stability, resulting in a fairway driver that can be depended on for touch shots as well as big crus\hes down the fairway. The disc is a glide machine and makes your control drives longer. Evolve your game by trusting your instincts!
not rated
kr

199.00