Distance Drivers
ROYAL GRAND GRACE FIRST
kr 269.00
GRACE | DISTANCE DRIVER
11 | 6 | -1 | 2
Ypperlig disk for de som har fått på plass teknikken. Flott glide som gir en fin bane. Kan brukes til både anhyzer og små hyzer flips. Vær obs på at den høye gliden kan skape utfordriger ved vindige dager.
Grace is all about smooth distance. It has the control of a fairway driver, and the distance of a high speed driver. That combined with a neutral flight and great glide makes the Grace a versatile distance driver for the masses. Throw with Grace!
Grand Plastic – The new premium plastic!
Grand is the durable premium plastic in our Royal Line. Grand has great grip that will not fail you, no matter the outside circumstances. It features a soft feel and a rigid rim with perfect flex.
Specifications
Max Weight: 175.1gr. Diameter: 21.1cm. Height: 1.6cm. Rim Depth: 1.1cm. Rim Thickness: 2.2cm. Inside Rim Diameter: 16.6cm. Rim Depth / Diameter Ratio: 5.2%. Rim Configuration: 30.50. Flexibility: 11.93kg.
Bare innloggede kunder som har kjøpt dette produktet kan legge igjen en omtale.
Relaterte produkter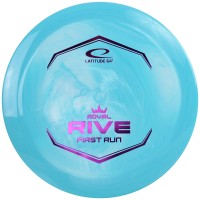 Royal Grand Rive First Run
Alle diskene vi har på lager er turkis lilla blanding i diskene.
13 | 5 | 0 | 3.5
The Rive is a crusher, the perfect distance driver for top disc golfers. The combination of superior speed, great glide and predictable overstable flight is what makes the Rive great.
Specifications
Max Weight: 175.1gr. Diameter: 21.1cm. Height: 1.8cm. Rim Depth: 1.2cm. Rim Thickness: 2.3cm. Inside Rim. Diameter: 16.5cm. Rim Depth / Diameter Ratio: 5.7%. Rim Configuration: 30.00. Flexibility: 12.16kg
not rated
kr

269.00