Putter
PA-3 350G – Lykke Lorentzen Signature Series 2021
The Prodigy Disc PA-3 is our top selling putt & approach disc. Aim straight at the basket and nail your putts and approaches with a laser straight, stable flight path. The PA-3 features a beaded rim, and is a favorite for disc golfers of all skill levels.
This is Lykke's Signature Series disc for the 2021 season.
The 350G is a more firm blend for those who like a slightly stiffer plastic. The 350G plastic is the product of 16 months of research and development. Its unique tacky feel and increased stiffness puts it ahead of all base-line resin available on the market today. It was developed in a collaborative effort by World Champions, Major Champions and National Tour Champions looking for discs that will break in perfectly over time. The 350 G stays grippy even in wet conditions.
Tilleggsinformasjon
| | |
| --- | --- |
| Vekt | 0.180 kg |
| Dimensjoner | 21 × 21 × 2 cm |
Bare innloggede kunder som har kjøpt dette produktet kan legge igjen en omtale.
Relaterte produkter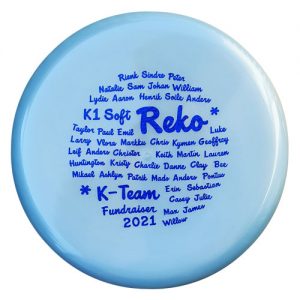 K1 Reko Soft team fundraiser 2021
Get you Reko for those straight putts and approaches, or give it a little hyzer on drives and watch it turn over gently. A true Go-To putter and a staple in many player's bags.
Reko has a comfortable rounded profile and a smooth bead, which fits most players' hands. Easy to grip and easy to throw. It features a strengthened shoulder which adds a little extra durability compared to the average putter. Reko is Swedish for good, reliable or decent. The world needs more Reko.
Suitable for: Putts, approaches and hyzer-flip drives.
not rated
kr

249.00