Midrange
KC Pro Roc
kr 179.00
Best Choice for: Experienced players utility disc, Hyzer shots, Anhyzer shots
The Roc is simply the best, most versatile mid-range disc ever made. It provides accuracy at any range. This disc can take and hold the angle of release, even into a headwind. It can be used for driving, upshots, straight shots, hyzer shots or anhyzers. The Roc ages gradually and predictably. If youíre not sure what disc to throw, choose the Roc; just like most pros.
Produkt beskrivelse
Speed

: 4

 

Glide

: 4

 

Turn

: 0

Fade

: 3
Tilleggsinformasjon
| | |
| --- | --- |
| Vekt | 0.180 kg |
| Dimensjoner | 22 × 22 × 2 cm |
Bare innloggede kunder som har kjøpt dette produktet kan legge igjen en omtale.
Relaterte produkter
STRATA KEA
Kea 
Kea er en overstabil midrange som passer ypperlig til kast 30-70 alt etter styrken til kasteren. 
Den er pålitelig sin uansett vind og vær. 
not rated
kr

135.00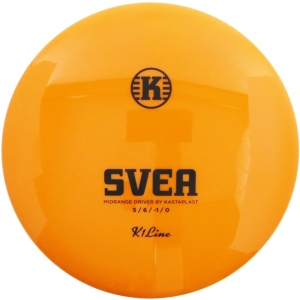 K1 SVEA
Kastaplast Svea's key word is glide. Use Svea for lazer-straight precision shots, long-lasting anhyzer lines or smooth hyzers.
Suitable for: Low power throwers and whenever glide is needed.
not rated
kr

189.00
Strata Kotuku
Fantastisk midrange som passer til alt og alle.
Alle bør ha en litt overstabil midrange i baggen.
not rated
kr

135.00
Atomic Kotuku
A good reliable stable to straight disc with a fade, this will easily hold a line and with the glide is sneaky long. Model #: MR3 PDGA Approved: Yes – as the Kotuku / MR3 Diameter: 217mm Weight: 155-180g Speed: 5 Glide: 5 … Les mer
not rated
kr

189.00
STRATA PIWAKAWAKA
Piwakawaka 
 En pålitelig rett flyvende disk med veldig god glid, den flyter langt og holder linjen fint. 
not rated
kr

135.00
NEO EVOLUTION ORIGIN
Origin is fairly understandable at high speeds, making a perfect ally for long turnover shots and precise, laser straight lines when thrown with control. It will thrive in tailwinds, wooded fairways, and calmer conditions out on the course. You will be blown away at how far this disc will fly compared to it's flight numbers. If the fan favorite Essence had a mid-range relative, this is it.
not rated
kr

209.00
Z line Buzzz
Buzzz er diskgolfs mest populære midrange fordi den alltid er pålitelig og passer alle ferdighetsnivåer.
Det er en lav profil moderne midrange som har satt en ny standard for rett flyvende midrange som vi kan stole på.
not rated
kr

189.00