Fairway Drivers
Gold Orbit Diamond 10 Year Anniversary
kr 269.00
Denne råe disken er nå kommet i en ekstra fin drakt for å feire 10 års dagen.
Lette vekter som passer veldig bra for de som ikke kaster så hardt og langt fra før.
Diamond Light is the choice of disc for beginners, children and people who don't throw very far. It is produced only in weights between 145g-159g. which makes it easy to throw and control. It has an understable flight path with good glide and small fade.'
Produkt beskrivelse
Speed: 8.0
Glide: 6.0
Turn: -3.0
Fade: 1.0
Tilleggsinformasjon
| | |
| --- | --- |
| Vekt | 0.180 kg |
| Dimensjoner | 21 × 21 × 2 cm |
Bare innloggede kunder som har kjøpt dette produktet kan legge igjen en omtale.
Relaterte produkter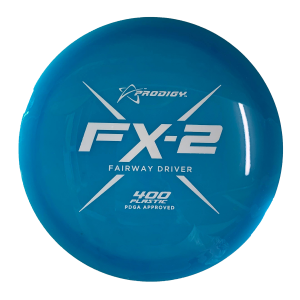 FX-2 400
The Prodigy Disc FX-2 packs a punch in our fairway lineup, bringing speed to its class as it fits in between our F Series and H Series. Created in collaboration with 2-time Disc Golf Pro Tour Champion Chris Dickerson, the FX-2 is overstable with dimensions specific to Chris' desires in a disc. The FX-2 has a profile that provides a comfortable feel for both backhand and sidearm throwers. Crank on it as hard as you want and get a fast, straight flight with a medium finish or scale back the power for controlled hyzers. No matter how you throw it, you'll be surprised how far it flies. Not to mention, it's Robot Chicken approved. The FX-2 brings a new brand of fairway driver to the table with more to come.
Stamp color may vary. Shade of disc color may vary.
not rated
kr

195.00