Putter
A3 400g
kr 205.00
Prodigy A3 er en overstabil disc som fyller tomrommet mellom en putter og en midrange. Den er perfekt for deg som har spilt en stund, og ønsker en disc som ikke flipper over med det første. Denne passer til korte og kontrollerte innspill, også når det blåser en del.
Tilleggsinformasjon
| | |
| --- | --- |
| Vekt | 0.180 kg |
| Dimensjoner | 21 × 21 × 2 cm |
Bare innloggede kunder som har kjøpt dette produktet kan legge igjen en omtale.
Relaterte produkter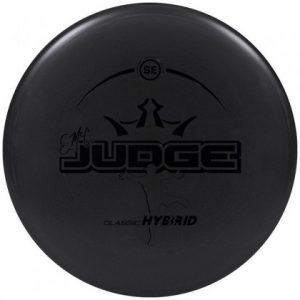 CLASSIC HYBRID EMAC JUDGE SE
If you love the flight of the Judge but wish it had less of a bead and a bit less fade, you're in good company with 2010 World Champion, Eric McCabe. In the quest for his go-to putter, Eric approached Jeremy Rusco and Latitude 64 about creating a putter that sits in between the Judge and the Warden, and the EMAC Judge is the result. The EMAC Judge features an incredible feel in your hand with a microbead that ensures a smooth release. Disc golfers using the EMAC Judge for approach shots will love the neutral stability with a subtle finish, and those putting with it will find a consistent flight with less diving fade than the original Judge. Eric is known for his world-class putting, so if you're looking for a putter that will take your game to the next level, look no further than the EMAC Judge!
not rated
kr

219.00