Putter
A2 750
kr 215.00
The Prodigy Disc A2 is an overstable utility disc that fills the gap between midranges and putters. The A2 is perfect for power throwers who want to avoid the possibility of their shot turning over. The disc is consistent and reliable in all wind conditions and perfect for short, trick shots as well as high wind approach shots. The A2 is a beadless cousin to the A1 and will fly just slightly less stable than the A1. You can expect and extra 30 to 40 feet of glide than the A1.
Stamp color may vary. Shade of disc color may vary.
Tilleggsinformasjon
| | |
| --- | --- |
| Vekt | 0.180 kg |
| Dimensjoner | 21 × 21 × 2 cm |
Bare innloggede kunder som har kjøpt dette produktet kan legge igjen en omtale.
Relaterte produkter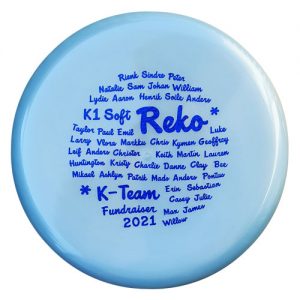 K1 Reko Soft team fundraiser 2021
Get you Reko for those straight putts and approaches, or give it a little hyzer on drives and watch it turn over gently. A true Go-To putter and a staple in many player's bags.
Reko has a comfortable rounded profile and a smooth bead, which fits most players' hands. Easy to grip and easy to throw. It features a strengthened shoulder which adds a little extra durability compared to the average putter. Reko is Swedish for good, reliable or decent. The world needs more Reko.
Suitable for: Putts, approaches and hyzer-flip drives.
not rated
kr

249.00