Putter
PA-3 300 Chris Dickerson Signature Series
kr 165.00
These discs feature a Prodigy's Team player's Signature stamp and a Prodigy Signature Series bottom stamp.
The Prodigy Disc PA3 is our top selling putt & approach disc. Aim straight at the basket and nail your putts and approaches with a laser straight, stable flight path. The PA3 features a beaded rim, and is a favorite for disc golfers of all skill levels.
Stamp color may vary. Shade of disc color may vary.
By purchasing this product, you support the touring efforts of the athlete in question.
Produkt beskrivelse
Speed

: 3

 

Glide

: 4

Turn

: 0

 

Fade

: 1
Tilleggsinformasjon
| | |
| --- | --- |
| Vekt | 0.180 kg |
| Dimensjoner | 21 × 21 × 2 cm |
Bare innloggede kunder som har kjøpt dette produktet kan legge igjen en omtale.
Relaterte produkter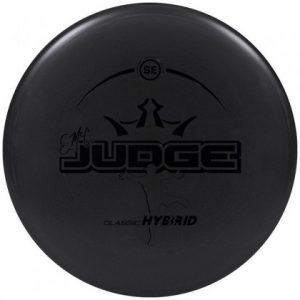 CLASSIC HYBRID EMAC JUDGE SE
If you love the flight of the Judge but wish it had less of a bead and a bit less fade, you're in good company with 2010 World Champion, Eric McCabe. In the quest for his go-to putter, Eric approached Jeremy Rusco and Latitude 64 about creating a putter that sits in between the Judge and the Warden, and the EMAC Judge is the result. The EMAC Judge features an incredible feel in your hand with a microbead that ensures a smooth release. Disc golfers using the EMAC Judge for approach shots will love the neutral stability with a subtle finish, and those putting with it will find a consistent flight with less diving fade than the original Judge. Eric is known for his world-class putting, so if you're looking for a putter that will take your game to the next level, look no further than the EMAC Judge!
not rated
kr

219.00