Fairway Drivers
2021 HAILEY KING TOUR SERIES HEAT
Produkt beskrivelse
Speed: 9.0
Glide: 6.0
Turn: -3
Fade: 1.0
Tilleggsinformasjon
| | |
| --- | --- |
| Vekt | 0.180 kg |
| Dimensjoner | 21 × 21 × 2 cm |
Bare innloggede kunder som har kjøpt dette produktet kan legge igjen en omtale.
Relaterte produkter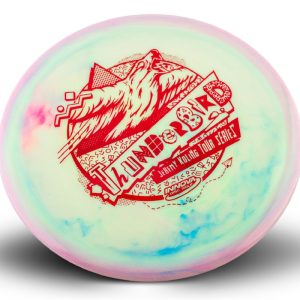 Star Thunderbird Jeremy Koling (Tour Series)
Big Jerm went retro with the Thunderbird this run. The Koling Thunderbird is just stiff enough for all the flicks while being soft enough to give you all the feel in the flight plate one would need to smash a backhand. As the Koling Thunderbird is known for, these are a bit more overstable than a standard Thunderbird.
173-175g
FLIGHT PLATE SWIRL COLORS VARY
not rated
kr

349.00